My good friends, the Kranz family, have always had many feline members (usually around 5 at any one time!) and, when they lived locally to me, I was often on feeding duty while the humans are on holiday. My version of feeding duty usually involved playing with the cats as well and sneaking a few photographs as well, trying to capture their varied personalities. I've written a little bit below about the members of the menagerie who I got to know a little!
Fluff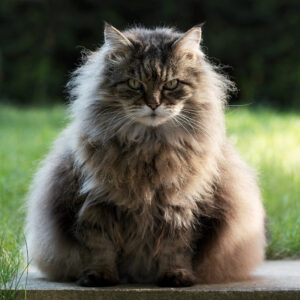 The grand old lady of the feline family was Fluff. She was originally a stray before she joined their family and I believe that, shortly after joining their family, they discovered she was pregnant! She always seemed an independent spirit, and her face looks naturally stern, but I always found her very sweet and she has a lovely purr. I think her time as a stray helped develop her skills as a catcher of small creatures – she was a prodigious hunter. She lived an impressively long life, soldiering on in her twilight years despite arthritis and occasional seizures, but has sadly now passed.
Reggie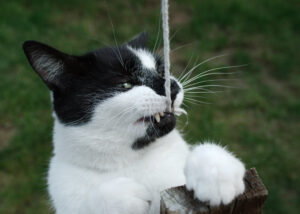 Aka "King Reggie". This chap had a distinctive swagger to his walk and was well recognised amongst the neighbouring houses as he patrolled his manor. He was originally a rescue cat but settled to become one of the family. He didn't take any nonsense from other cats or even humans, but he had a big soft side. When he was on patrol and spotted me he would come and say hello, and he loved a good scratch under this chin. I've seen first hand was more than happy to be a lap cat when the mood takes him! I've also see first hand that it didn't take much to bring out his inner kitten, chasing string or toys and even playing with Bilbo into old age. He has now passed.
Tilly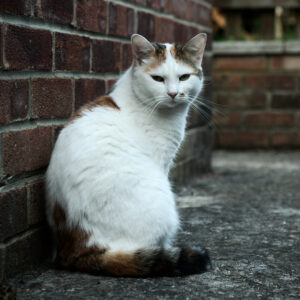 She was a rescue kitten and originally had a sister called India. Tilly has plush fur, mostly white with a few splashes of colour. She is a slightly flighty kitty, so moving near her can often result in a blur of white as she darts to a comfortable distance! Before feeding time, and sometimes after too, she'll take up station on the dining room table where she's more than happy to be stroked and fussed over. It's rare to catch a glimpse of her outside of her home garden, although she sometimes like to sit just behind the fence under the garden's hedge which means when I'm walking my cat, Theo, past there he'll sometimes catch a glimpse of her dart under the hedge hissing and growling towards her, and in return get hissed at by her from the other side of the fence.
Boris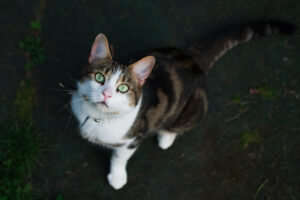 Boris is one of Tilly's sons (Tilly's other offspring from her only litter were re-homed elsewhere). I first saw him when he was only 6 days old – his eyes hadn't yet opened. Once his eyes had opened he enjoyed the usual kitten-ish wrestling with his litter-mates and also Tilly's tail. Those eyes have developed to be quite striking now he's all grown up! He's not quite as flighty as Tilly, but when outside he will generally keep a distance unless I've got string or a wand toy for him to chase – he's quite acrobatic when chasing down feathers on a wand toy and does like to play. In fact I've even seen him play with Fluff! It's rare to catch sight of him outside of the home garden, but I'll sometimes see him loitering under a car outside the front of his home and, like his mum, he'll also loiter under the garden hedge by the fence to glare at cats walking past.
Bilbo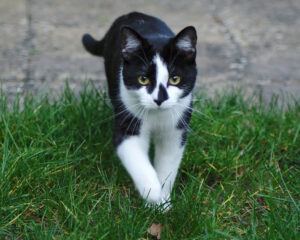 Bilbo, also known as Perry, is the newest member of the family and still very much a youngster in age and temperament, although gradually gaining in size. I don't think the other feline members of the family were too impressed by his playfulness, although from what I've seen Reggie will sometimes tolerate it! He eats like a starved dog and if you're a bit too slow putting his food down he'll try climb your leg to get near it (although the last time I was on feeding duty he did seem to have calmed a little in this respect!). Other than Reggie, he's the cat I see most often outside of being on feeding duty – he's not so prone to hiding as Tilly and Boris, and he has more energy and a sense of adventure than Fluff. He still seems to stick mostly close to home though. I've noticed that he seems to want to try be friends with other cats as when I've been walking Loki he'll mostly stand his ground when Loki approaches but then will roll around in a submissive gesture, but with playful swatting if he gets the chance – I've seen Loki mirror this rolling around as well some of the time.
In Memory
Other feline members of the family I've been lucky to meet over the years, but who have sadly passed on, are Merlin, Sharra, Amber, Oliver and India. May they all rest in peace.
Gallery
Below is a gallery of some photos of the various Kranz cats, current and past…